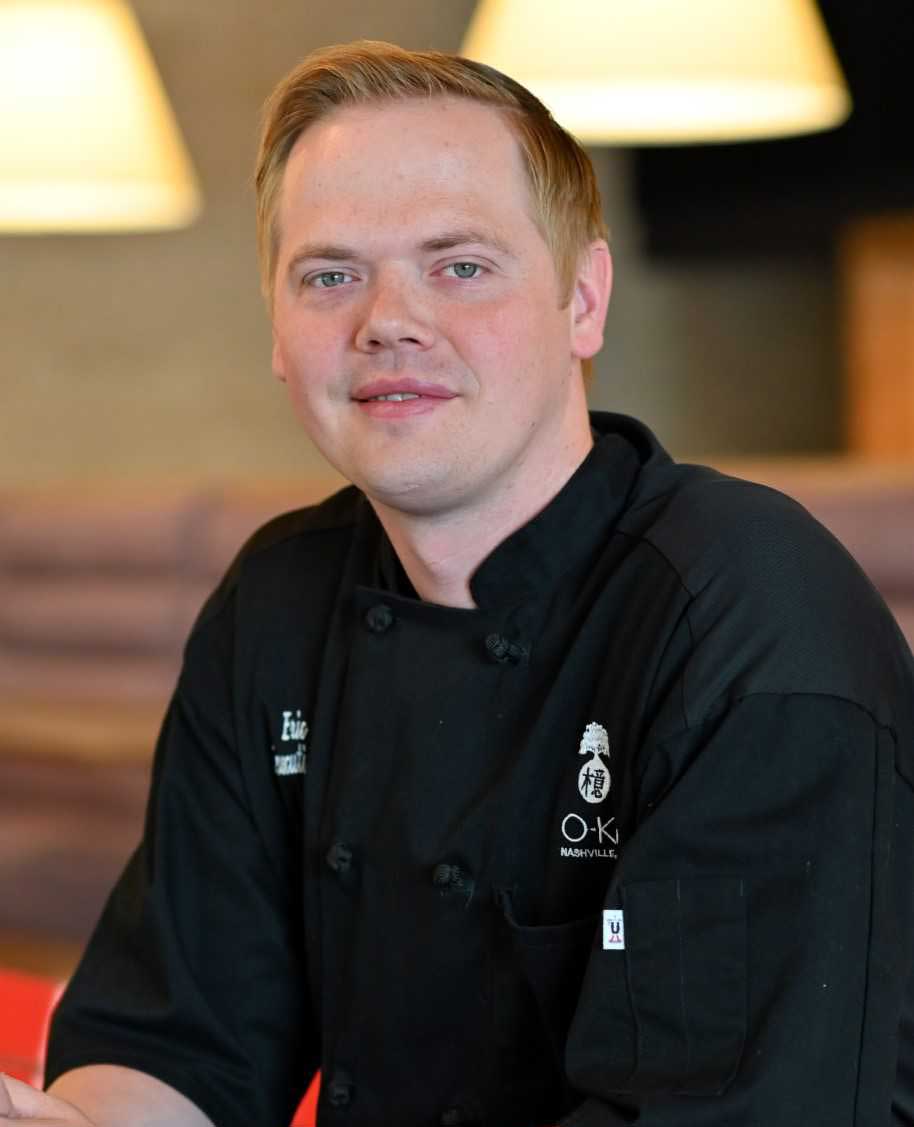 Main Event
Eric Hill
O-Ku Nashville, Nashville, TN
Eric Hill is the executive chef of O-Ku Nashville, part of The Indigo Road Hospitality Group based in Charleston, and the sixth O-Ku to open, with the most recent in Raleigh, North Carolina. Originally from Eugene, Oregon, Hill started with the Indigo Road Restaurant Group in June 2018 when he moved from Park City, Utah to Charleston, South Carolina where he was executive chef of O-Ku Charleston until spring of 2019, when he relocated to Nashville to open O-Ku in Germantown.
Hill has more than 11 years of experience in fine dining restaurants and luxury resorts, with experience in kitchen system integration, traditional Japanese cuisine, sushi preparation, high level banquet expertise, event planning, menu customization, cost analysis, as well as Forbes 5-star hospitality training.
Hill became passionate about Japanese cuisine after his first visit to Japan. Over the last seven years, Hill has visited the country frequently. "The culture of respect and hospitality there is like no other place in the world," says Chef Hill. "The level of pride and dignity the people display with an almost effortless demeanor is something I strive to emulate everyday in my personal and professional life."
Hill's average stays last about four to five weeks during which he spends traveling and tasting the different regional cuisines. Hill has traveled extensively in Japan, from outside of Okinawa, to the frosted Onsens of Hokodate in Hokkaido, to the busiest intersection in the world, Shibuya Crossing Tokyo, as well as up the Hida River and to little known towns like Gero and Takayama.
Prior to joining The Indigo Road Hospitality Group, Hill worked at Montage International Hotels and Resorts, a Forbes 5-star property, in Park City, Utah from 2012 to June 2018 where he served as Chef De Cuisine at Yama Sushi and Vista Lounge. Hill's special event dinners and menu construction include the Robb Report for 2015 and 2016, Thai Consulate Dinner 2015, and Park City Food and Wine Grand Tasting event 2017. Hill was the winner for Best in State for 2011-2012 as the Lead Sushi Chef as part of the team at Naked Fish Japanese Bistro.
A few of his hobbies include playing golf and basketball, hiking with his girlfriend and Mini Australian Sheppard 'Autzen,' traveling, fly fishing, and anything that has to do with Nike and The University of Oregon athletics. Hill is also a volunteer for the Children's Miracle Network and has served more than 250 hours of service.