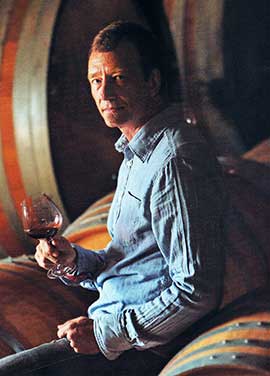 Guy Davis
Davis Family Vineyards, Healdsburg, CA
Guy Davis' wine roots run deep, reaching back to the age of nineteen when he worked in a French restaurant in Seattle while pursuing an economics degree at the University of Washington.
Guy worked as an assistant to the chef, arriving each afternoon to work late into the night. After the last customer left, and the doors closed, Guy would retire to the kitchen to make dinner for the owner and chef before joining them for a night of food, wine and conversation.
"The most memorable thing about those evenings was the wine," recalls Davis. "The restaurant owner and chef were Parisian expatriates. And during dinner they would school me on the "finer" points of French cuisine, the culinary lifestyle and, of course, the place of wine in a well-lived life."
Each night, they'd open bottles of great wine from France, always combined with great French food and a healthy dose of good conversation. "No matter how busy or chaotic the night had been we always savored these moments."
Guy was an eager, open listener. And over glasses of wine, his enthusiasm grew. As he drank from the classic wine regions of France, from Bordeaux to Burgundy, the men schooled him on the origins and characteristics of each particular region.
"It is all very European–and it opened my eyes. I had no idea that these experiences would lead to my life-long affair with wine and to a career that would ultimately lead me to becoming a winemaker in my own vineyard."
Appearance Schedule
Friday
Friday VIP
Saturday
Saturday VIP
Specialty Dinner