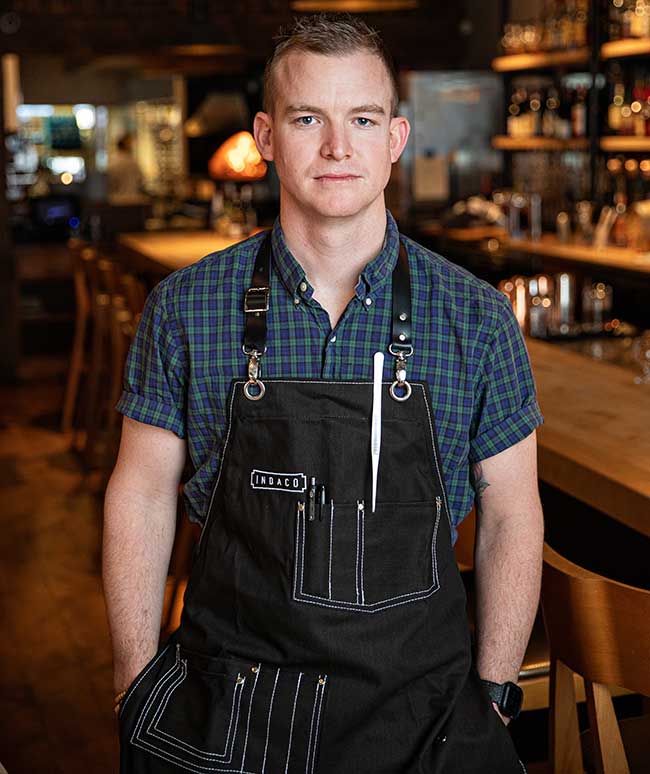 Truckin
Mark Bolchoz
Indaco, Charleston, SC
A native Charlestonian, Executive Chef Mark Bolchoz, Jr. grew up surrounded by the cuisine and culture of the Lowcountry.
After ventures across the Eastcoast, including several years under renowned New York chef Gianni ScappinofMarket Street and Gusto Restaurants, Bolchoz returned to Charleston in 2016 with his wife Ariana, a fellow Culinary Institute of America graduate. Upon his return, Bolchozimmersed himself in the flourishing culinary scene,gaining experience atsome of the city's toprestaurants,including The Groceryand Peninsula Grill.
As Sous Chef of the prestigious Peninsula Grill, Bolchoz spenta year under one of Charleston's most revered chefs, Graham Dailey, learning and honing his craft. During this time, Bolchoz was named to the first Zagat's'30 Under 30'list for Charleston and one of the"Top Nine Culinary Instagram Accounts in the City" by The Post & Courier.After promotion to Chef de Cuisine under the leadership of Executive Chef Ramon Taimanglo, Bolchoz helped Peninsula Grill regain the coveted title of"Best Fine Dining in Charleston" in 2018. Though he was thriving in aburgeoning culinary career, Bolchoz responded to a lifelong calling and took a hiatus from Peninsula Grill to join the United States Marine Corps, in which he continues to serve as aCorporal in the Reserves.
In 2020, Bolchoz's love of rustic and rural Italian cuisine led him to joinThe Indigo Road Hospitality team as Executive Chef ofIndaco. With a focus on sourcing ingredients from local and regional purveyors, Bolchoz relies on the seasons to drivemenu offerings, which include wood-fired pizzas, hand-crafted pasta, cured meats, and more.
When Bolchoz is not in the kitchen, you can find himteeing off at one of Charleston's many golf courses, breaking a sweat on a run,or hanging out with his wife, Ariana, and pup, Stanley.