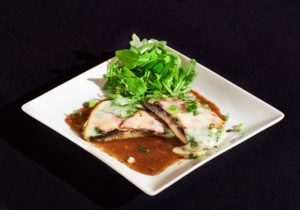 STUFFED PORTOBELLA
Serves 4
Ingredients:
4 large portobella mushrooms
1medium onion, finely diced
1cup sherry
6 oz margarine
8 oz fresh spinach
4 slices applewood smoked bacon
4 – 6 slices smoked provolone
salt, pepper and nutmeg
6 oz goat cheese
t tblsp toux
½ cup of chicken stock
Method:
In large skillet melt 4oz margarine, ½ sauter diced onion, add cleaned and destemned portobello, sauté on low heat, turning occasionally for 5 minutes and deglaze with sherry, Remove from fire and refrigerate to cool.
Sauté ½ diced onion in 2oz margarine , add spinach and chicken stock. Season with a pinch of salt, pepper and nutmeg. Bring to boil and add 1 tblsp of roux to chicken stock, simmer for 2 minutes. Set aside to cool.
Bake bacon slices to a light brown. Drain off drippings.
Assembly flaten goat cheese. 11/2 oz each in saran wrap and place on top (inside) of portobella. Top with spinach and, bacon and sliced mozzarella.
Bake in oven for 8 – 10 minutes and serve hot.
Festival Insider Tip: Don't miss Wolfgangs' Wine Dinner during Highlands Food and Wine Festival!  This year's "Generations," is an evening with Caymus Vineyards and Wagner Family Wines at Wolfgang's Restaurant and Wine Bistro, with guest chef, Dickie Brennan, Saturday, November 11.
Executive Chef Wolfgang Green invites you to celebrate family heritage with two dynasties of the culinary and wine world. Guest Chef Dickie Brennan is a third generation New Orleans restaurateur of the renowned Brennan family. Chef Brennan and Chef Wolfgang will collaborate in the creation of five remarkable courses to complement Caymus Vineyards and Wagner Family Wines.
Reserve your seat today for "Generations", November 11th by calling (828) 526-3806 and visit their website: http://www.wolfgangs.net