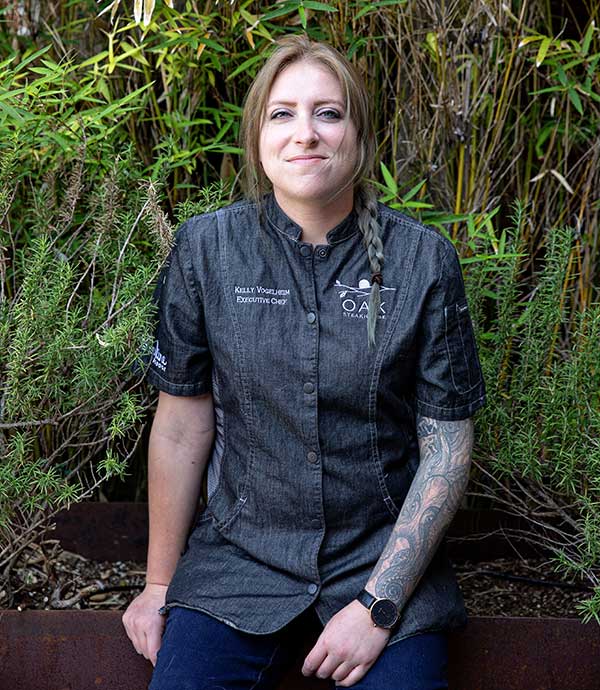 Grand Tasting
Kelly Vogelheim
Oak Steakhouse, Highlands, NC
Kelly Vogelheim is the Executive Chef at Oak Steakhouse, a modern take on the classic steakhouse at Skyline Lodge in Highlands, NC. Born in Heidelberg, Germany while her father served in the military, Vogelheim relocated with her family to Rogers City, MI as a child. It was there that she began to develop her passion for cooking; Vogelheim was influenced by time spent in the kitchen with her mother and grandmother, accompanying her mother to the farmers market for fresh produce, making fresh jam with berries from the raspberry bush in her own backyard, and enjoying elaborate dinners prepared by her grandmother. At age 14, Vogelheim landed her first job in the food and beverage industry at a local café. At 16, she took a job at The Portage Restaurant, where she developed an array of skills by working in a range of positions from dishwasher to line cook. Following her deeply rooted passion, Vogelheim enrolled in the Great Lakes Culinary Institute, and while in school full time, continued to work at nearby restaurants, before graduating in 2014. 
Following graduation, Vogelheim spent three years as the Executive Chef at Interlake Steamship Company where she was responsible for preparing four meals a day for the 30 workers on board. Taking her talents back to land, she relocated to Charleston in early 2017 to take the position of Sous Chef at Lowcountry Bistro; she quickly was promoted to Chef de Cuisine later that year. In 2018, Vogelheim joined the Indigo Road Hospitality team as the Executive Chef at Town Hall in Florence, SC. 
In 2019 Vogelheim was selected by the South Carolina Governor to serve as a prestigious South Carolina Chef Ambassador. In this role, she traveled the state to promote South Carolina's culinary heritage and local food culture through cooking demonstrations, guest appearances, and educational programs, all while maintaining her position of Executive Chef at Town Hall. Later that year, Vogelheim was chosen as a guest chef to cook at the James Beard House in New York City. In 2021, Vogelheim became the Executive Chef at Oak Steakhouse. 
As the leader of the Oak Steakhouse kitchen, Vogelheim is excited to continue her growth as a chef, taking advantage of working with all the local produce and ingredients that Highlands has to offer. Vogelheim's cooking style allows the ingredients she utilizes to speak for themselves, manipulating them just enough to let their natural potential shine. She loves exploring ingredients with earthy tones, such as mushrooms, beets, and turmeric, that remind her of her childhood spent outdoors. 
Vogelheim currently lives in Highlands, NC. When she's not working, she can be found spending time outdoors hunting, fishing, hiking, and camping, often with her two dogs, Copper 
and Vladimir, in tow. She also enjoys reading and visiting her family in Michigan any chance she can.